Playoff action in the ECBL Mid-Atlantic resumes this weekend when the top two seeds each host a semifinal game. Winners will move on to the championship and a shot at advancing to the first-ever ECBL Super Cup.
Top-seeded Western Mass Zombies (9-3) will host the Fredericksburg Grizzlies (7-8) at the South End Community Center in Springfield. Tip-off is scheduled for 7:00 PM.
The Grizzlies arrive after pulling off a minor upset in the first round where they defeated Philly Cannons 141-116. The Zombies and Fredericksburg met twice during the regular season in May, each winning at home.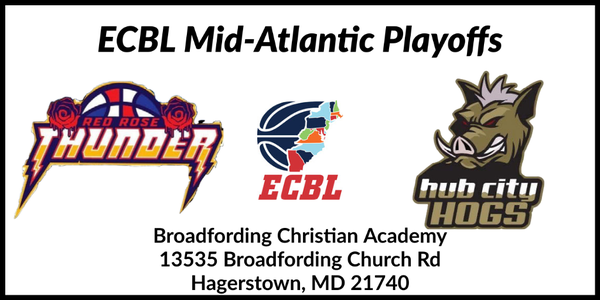 The second-seeded Hub City Hogs (7-5) are ready to take on the Red Rose Thunder (9-5) in Hagerstown. The tems played a pair of games early in March with the Hogs winning (141-114; 90-80). The Thunder are red-hot, riding a three-game win streak while Hub City closed out the regular season winning two of their last three games.